Dye-Sublimation Dye-Print Method
What is Dye-Sublimation?
Dye-sublimation is a printing technology which dyes polyester fabric by releasing heat-activated gases which bond with the fibers, resulting in a brilliant finish with photographic quality which is also weather resistant and washer safe.

How is it accomplsihed?
The actual process involves printing a digital file on special paper, using our large format printers, and then heat transfering the images and copy to fabric using a large rotary heat press or other manual heat-presses.

What is the Result?
The end result is remarkable! Brilliant full color prints, printed on several
standard polyester fabrics.
Dye-Sublimation Method Features
Process Color or Spot Color

Unlimited Number of Colors

Dye-Sublimation Special Ink for Color Brilliance

Rotary and Flat heat press quality results

Beautiful photographic quality possible

Several quality Polyester fabrics available

Indoor or Outdoor use, Colorfast

Appropriate for numerous flag, banner, sash, and related items

Results in chemical bonding of ink to polester fabric

Color matching by Pantone PMS number

Very versatile cost effective method


Superior in method and result to screen printing
What are the Advantages of Using Dye-Sublimation?
Budget - If you are on a budget, this method of manufacturing is less costly than sewn and appliqued or screen printing. You will be getting a product that will last for a very long time with competivly low pricing. Being colorfast, the dye sub ink will will not crack, peel, or
fade as evident with screen printing.

Time - If you have a deadline, dye-sublimation printing is usally the quicker method,
and recommended for rush orders.

Design & Color - With dye-sublimation printing, we can produce more complicated and intricate design layouts. This means that we can use as many colors as desired in your layout without the price being significantly affected. This includes shading, blending of colors, and outlines around lettering and logo/mascot. The key is the quality pf the file supplied that presents these effects. In addition, unlike with nylon colors, we will match the PMS color reference # that is provided to us as closely as possible. You are not restricted to certain dye lots as is the case with nylon products. We encourage you to review the nylon fabric color chart for suggested colors so that we can provide a close match.


Quality & Appearance - Choosing dye-sublimation gurantees that you will have the finest quality product possible withour a price penalty - for the number of colors being used. Your design can be as colorful as you want it to be! Further, dye-printed flags and banners
are of such high quality that they rival in appearance with traditional sewn and appliqued.
You can't tell the difference between printed or sewn construction at acommon viewing distance (spectator viewing distance is approximately 20').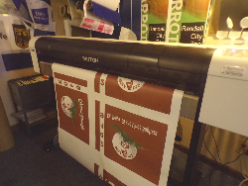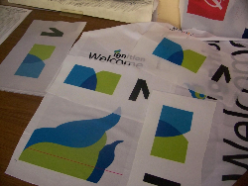 Using Nylon for Color Comparison
-
We suggest that the client consider looking at a nylon factory
dyed swatch for color comparison when
possible to determione if a nylon color could be used
as a color target when setting up the sublimation dye color
for the print layout. When a nylon color is suggested,
for example, such as Royal Blue PMS pantone # 286,
we would do our best to set the PMS formula
to match closely the target color.