Quality, price, and turn-around time are the most important things you look for in custom flag and banner manufacturing. Knowing this, we make every effort to ensure you receive the best quality at the best rates.
Whether it's an order for custom flags, a podium banner, marching banner, parade sash or other items,
we'll take great care of you.
If you are looking to make flags and banners on your own, we have the best fabric available. We offer quality 200 denier Nylon Fabric in an extensive range of colors. This fabric meets government specifications for flag use. In additon, we offer quality Polyester Fabric specifcally heat-treated for use in the Dye-Sublimation process. We can accomodate your fabric purchase, large or small.


We make or distribute a wide range of flag and banner products and accessories. Some these include flag poles, banners stands, finishing supplies such as fringe, heading tape, velcro and grommets. We also distribute United States flags, State flags, Ethnic and International flags among many other items. We suggest that you review our product offerings at our
AristaFlagStore.com
site.
Dye-Printing Dye Sublimation

Pigment Ink Printing

Nylon and Polyester Fabric Sales

Sewing and Finishing

Graphic Design and Layout Development


Flag and Banner Products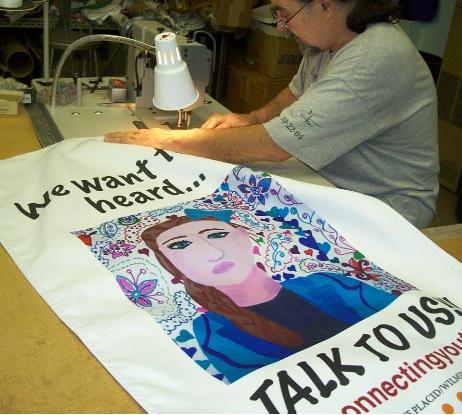 Nylon and Polyester Fabric Sales
We offer industry standard nylon fabric for flag and banner construction, as well as polyester.
Sewing and Finishing
The sewing and finishing of flag products is important for product strength and durability, and appearance. For this reason we use double-needle stitching for most sewing operations, and zig-zag stiching for specialty work. We pride ourselves in paying attention to details. We refer to our work as Flag and Banner Craft.
Graphic Design and Layout Adaptation
Unless a flag or banner is a blank solid color, it has a layout with graphic elements that need to be organized and colored for printing.
This is one of the first questions we ask : "What do you want to indicate and show in your layout? And what design elements (such as a logo) do you have?" Finally, we will discuss what formats and file types you have available. When needed we will provide suggestions and modifications so that final production layouts achieve your desired results.
Dye-Printing / Dye-Sublimation
The most used process for decorating flags and banners, Dye-Sublimation of polyester fabric allows for a wide variety of colors and intensive designs to print. We use specialty equipment to print sublimation transfers which are then heat-pressed to the fabric for permanent industrial quality results.
The inks are colorfast and are chemically bonded to the polyester fabric of the items. Dye-sublimation is a multi-step process resulting in very high quality durable flags and banners.
Pigment Ink Printing
Colorful, durable and less expensive than sublimated items, pigment ink printing is a great way to imprint images and designs on various fabrics. This is perhaps the best method to use if you are more economy minded. A variety of fabrics can be printed with excellant results.

Flag and Banner Products
We carry a full line of flag and banner products. Please contact us for a quote on specific stock or custom-made items. For a comprehensive presentation of available products, we suggest you review our AristaFlagStore.com site.