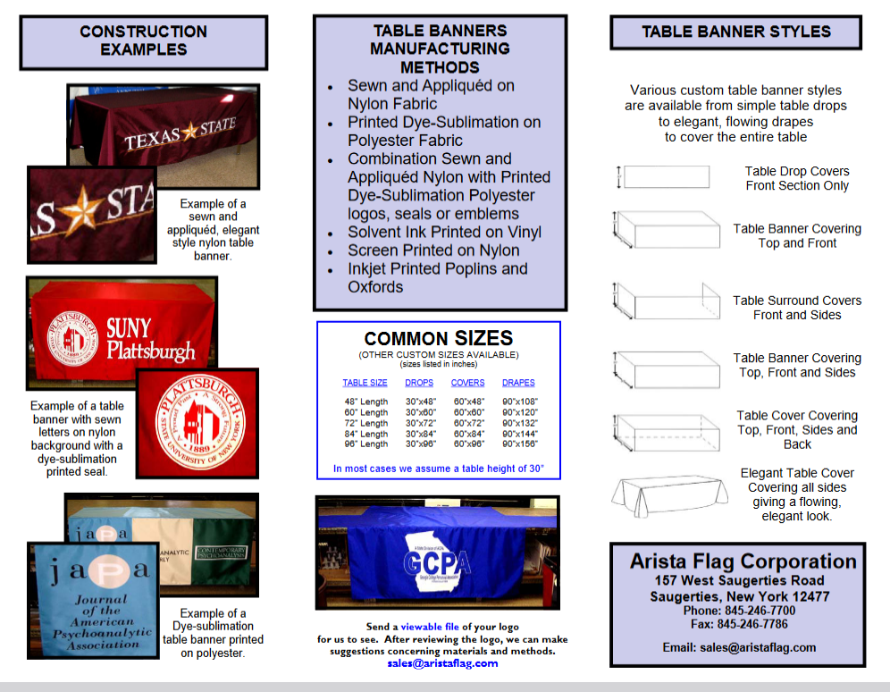 TABLE BANNER STYLES
The basic possible shapes of a baner are used for display, identification and promotion at a show, conference, meeting or exhibition. Banners can be made to cover the front, top and front, and top, front and sides of a display table in various sizes. They can also be made to skirt the table, leaving the top exposed.
---
TABLE BANNER SIZES
The most common sizes for table banners and table covers are as follows (Height by Length):
30" x 48", 30" x 60", 30" x 72", 30" x 84", 30" x 96", 60" x 60", 60" x 72", 60" x 84", 60" x 96"
Other custom sizes are available.
---
TABLE BANNER CONSTRUCTION
The most common shape, both economic and efficient, is the basic two panel table banner. The top panel lies on the top, with the bottom panel with copy and logo as the idenfication panel. The usual bottom panel height is 30" or less to match the table height, allowing the horizontal center point of the banner to rest at the edge of the table. Placing matching grommets at or near the horizontal center line of the banner allows for folding the banner upon itself and using the table banner as a wall banner as well.
---
TABLE BANNER MANUFACTURING METHODS
Table banners can be constructed using the following methods:
Dye-sublimation ink on 200 Denier polyester fabric
Pigmented ink on treated polyester fabric
Pigmented ink on vinyl